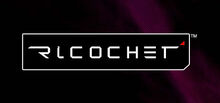 Ricochet is a platformer game developed by Valve Corporation and released on November 1, 2000.
The goal of Ricochet is to knock enemies off the pad into the void or decapitate them. The only weapon in Ricochet is a disc. Discs are upgradeable with powerups. Players get awarded with points. In Ricochet, there are 2 game modes: Arena and Deathmatch. Players can't jump normally, they should go to jump arrow to jump to another pad. The discs can respawn: they respawns when the player decapitated enemy, when touches the sky, when returning to player, or after 7 rebounds without Fast Shot or automatically. Player should have all 3 discs to throw the Decapitator disc.
Ad blocker interference detected!
Wikia is a free-to-use site that makes money from advertising. We have a modified experience for viewers using ad blockers

Wikia is not accessible if you've made further modifications. Remove the custom ad blocker rule(s) and the page will load as expected.